Meet Mary
Office Manager / Treatment Coordinator
I received my Bachelor's degree in Interdisciplinary Health Services and have enjoyed every minute of my dental career for over 30 years. I love greeting new patients, helping with initial consultations, and working with kids and adults to help them with their Optimal Treatment Plan.
Outside of the office, I enjoy spending time with my family, going on camping adventures, playing Pickle Ball, and relaxing with friends.
Meet Grant
Financial Coordinator
I started at Sage Orthodontics doing part time advertising work. Since joining full time, I have added numerous responsibilities to my plate here including being your source for any financial or insurance questions you may have. My goal for each day is to come to work with a good attitude. At home, I love "nerding" it up with my PC and PS4, watching the Lions, and playing with my two cats.
Meet Kelli
Lead Orthodontic Assistant / Clinic Coordinator
I am an orthodontic assistant with more than 15 years of experience. I love working at Sage Orthodontics and find my role to be extremely rewarding. It's a great feeling to change lives each day by creating beautiful smiles. My favorite quote is, "A smile is a curve that sets everything straight." I look forward to creating many more perfect smiles. In my free time, I enjoy being with my family, friends, and coworkers.
Meet Anber
Treatment Coordinator
Hi There! I am a treatment coordinator at Sage Orthodontics. I love meeting new patients and having the ability to build relationships with them as they complete their treatment here.
I am a freelance photographer in my spare time. I enjoy gardening in the summer, spending time with family and friends, and going camping up north with my husband Jake and my dog Stella.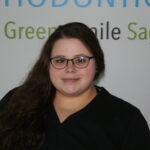 Meet Jennie
Reception and Scheduling Coordinator
Sage Orthodontics is my introduction into the orthodontic/dental world. I have ten years of customer service experience and love putting those skills to use serving our patients. Since joining the Sage team in September 2020, I've learned so much about the amazing changes that come from orthodontic treatment and enjoy seeing the improvements in our patients' smiles.
In my free time I love spending time with my husband and two boys, Orin and Jackson. We enjoy movies, video games, and trying new restaurants in the Kalamazoo area
Meet Chasity
Orthodontic Assistant
I started my career in general dentistry before I found my way to orthodontics. I enjoy working as an orthodontic assistant! Building relationships with patients and seeing their progress is gratifying. Outside of work, I enjoy spending time with my friends and family; and going out on the lake with my boyfriend, Ethan, and our golden receiver, Max. Ethan and I really love travelling!
Meet Casey
Part-Time Clinical Assistant
I graduated dental training in 2011. I worked for 9 years in general dentistry before I made my way to Sage Orthodontics. I have been with Sage Orthodontics since January 2019 as a clinical assistant. It has been very rewarding watching our patients fall in love with their smiles! In my free time, I enjoy spending time with my boyfriend and our two kids, Jozlin and Carson. As a family we enjoy camping and relaxing with our dog, Hazel.
Meet Courtney
Clinical Assistant
I am a Clinical Assistant at Sage Orthodontics. I began my career in the dental field in 2016 after graduating from dental assisting school. I had over 2 years of experience in the orthodontic field before joining the Sage Orthodontic team. It is a privilege to be able to build strong, friendly relationships with each family that receives treatment here.
I enjoy spending my free time with my husband Jake and my 2 children, Isabela and Oliver. We enjoy traveling, going to the beach in the summer, watching movies and playing videogames.
Meet Kristina
Reception and Scheduling Coordinator
I have 9 months previous experience in orthodontics, 15 years in special education and 3 years in physical therapy for disabled children. I love hiking, running, crocheting, scrapbooking, creating my own recipes, baking and spending time with my beautiful family.
I became part of the Sage family in April of 2021 and it has been wonderful to get to know our patients, parents and their siblings! Seeing all the beautiful smiles and creating all these memories has been such a blessing! I look forward to all the years and SMILES to come!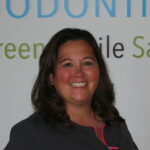 Meet Candy
Treatment Coordinator
I am an Expanded Functional Dental Assistant and have been a Pediatric orthodontic assistant for more than 25 years. I recently moved to the area and I am thrilled to be a part of the Sage Orthodontic team.
My passion is children and dogs. In my spare time, I enjoy camping, fishing and hanging out with my husband. I also transport dogs for German Short Hair Pointer Rescue, and have a part-time dog sitting business out of my home.