Meet Jamie Sage, DDS, MS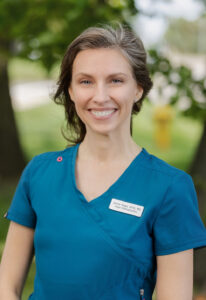 I wanted to become an orthodontist since I had braces when I was in middle school. I had horrible bucked teeth! My orthodontist was a wonderful person who not only gave me a beautiful smile and the confidence that comes with one, but took the time to chat with me, answer my questions, and make me feel comfortable. That is the kind of experience I want to pass along to each of my patients. I opened my own practice in March 2011 and look forward to a long and rewarding career here in Portage.
I grew up north of Kalamazoo in Middleville, MI with three younger brothers. I attended Ferris State University in Big Rapids, Michigan where I received my Bachelor of Science degree in Applied Biology. I attended dental school and my orthodontic residency at the University of Michigan where I received my Doctor of Dental Surgery and Master of Science degrees. My master's thesis for orthodontics evaluated the adult pre-surgical obstructive sleep apnea airway using Cone Beam Computed Tomography.
My husband, Dave and I live in Scotts with our two children and two cats. In my spare time I like being outdoors, hiking, swimming, and relaxing (as much as I can with two little kiddos). I enjoy reading, cheering for the Wolverines, beating my brothers in Fantasy Football, and traveling.
I am a member of the following affiliations:
American Association of Orthodontics
Michigan Association of Orthodontics
Great Lakes Association of Orthodontics
American Dental Association
Michigan Dental Association
Kalamazoo Valley District Dental Association