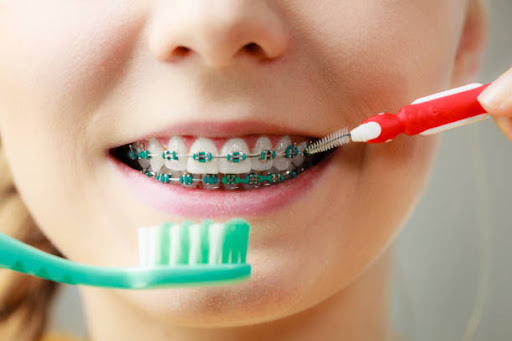 Often, people today have white spots on their teeth that look chalky or opaque. Perhaps you have them, or perhaps you've seen them on a friend or family member's teeth. Many things can cause white spots on teeth. They can be caused by nutrition, genetics, excessive fluoride intake at an early age, or poor oral hygiene.
In orthodontic treatment, white spots can develop if plaque remains around the brackets and along the gum line for a prolonged period without proper brushing and flossing. Maintaining good oral hygiene is imperative during orthodontic treatment. Since the bonding material binds the brackets to each tooth, you rarely see white marks under the braces. Once your braces are removed, you will notice these white marks around where the brackets once were and along the gum line.
When you consume food and beverages, the pH level in your mouth drops significantly. It is at this point that cavities begin to form. If the plaque remains around your braces for a long time, it can cause decalcification, or white marks, which lead to tooth decay.
How to Prevent White Spots
Brush your teeth, especially before bedtime. You do not want the plaque to remain around your braces and gum line all night. Plaque usually collects under wires and around brackets. Make sure you brush well and pay close attention to areas around your brackets.
Consider using an electric toothbrush. Their effectiveness is far greater than that of a Waterpik, which does not remove plaque as efficiently as brushing.
Maintain regular dental flossing to remove plaque and debris from between your teeth. White spots are not as noticeable between the teeth, but they can still be a problem.
If indicated, use a prescription fluoride toothpaste or rinse based on your brushing habits.
Reduce the intake of acidic foods and drinks such as sour candies, lemons, vinegar based foods, and acidic drinks such as soda, sports drinks, and lemonade. Regular consumption increases the risk of developing decalcification or white marks.
The color of your teeth and susceptibility to decay are determined at birth, just like your hair and eye color. The cause of white spots on teeth varies from person to person. Our orthodontic office aims to educate all our patients and parents on how good oral hygiene and diet impact dental health during orthodontic treatment. Together, let's create beautiful smiles that last a lifetime!
Contact our orthodontic office today to schedule an appointment.
Sage Orthodontics of Portage