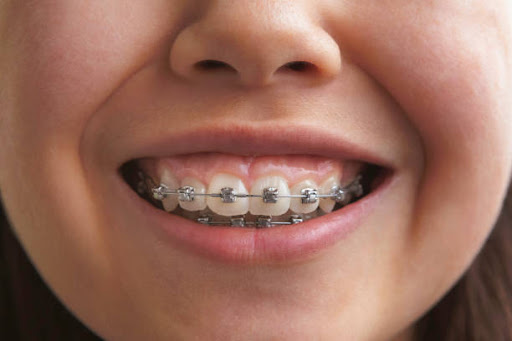 No matter how old you are, braces are a safe and effective way to straighten your teeth. Although you cannot see your teeth moving, constant, steady pressure caused by braces causes changes in your gums and jaw bone as your teeth move. Occasionally, some patients may experience minor side effects, such as gum irritation. If your gums are red, sore, or swollen, determine the cause and seek treatment as soon as possible.
It may be difficult to maintain good oral hygiene when wearing braces. This results in plaque building up and causing gingivitis, damaging the gums and causing them to swell and bleed. While wearing braces, if you notice your gums are red, swollen, or bleeding when you brush, this is indicative of infection and an inflammatory reaction. Hormone changes make children and teenagers more likely to develop gum disease. Additionally, it makes it harder to clean teeth and gums.
Swollen gums are a common occurrence when you first get braces. You may feel that your gums are sensitive while wearing braces. In some circumstances, metal brackets and wires can increase gum size due to hypertrophy or hyperplasia. When your orthodontic treatment is complete and your braces are removed, your gums will likely return to normal.
Wearing braces requires you to take dietary precautions. Some dietary habits are known to cause orthodontic appliances to break and increase the risk of dental decay. You should avoid eating anything hard or crunchy, such as raw vegetables and popcorn, which can irritate your gums. While wearing braces, limit foods and drinks that may cause dental caries (cavities). Your orthodontist will inform you of dietary restrictions while you are under their care.
Here are a few steps you can take to alleviate swelling and inflammation in your gums:
Get an electric toothbrush with an orthodontic head to thoroughly clean your teeth.
Clean between your teeth with a water flosser.
Interproximal brushes and floss threaders clean around and under wires better than toothbrushes.
You might want to consider mouthwash containing fluoride or antimicrobials.
To relieve inflammation in the mouth, rinse with warm water containing a pinch of salt.
Smoking and alcohol aggravate inflammation further.
To achieve the best results from your orthodontic treatment, it is important to make a conscious effort to maintain healthy oral hygiene habits. If you have a high risk of periodontal disease, your orthodontist may wait to begin orthodontic treatment until your teeth and gums are healthy.
We invite you to call our orthodontic office and schedule an appointment if you have any questions or would like more information.
Sage Orthodontics of Portage